Build Every Aspect Of Your Personal Health In Our Qi Gong Classes
Qi Gong (often spelt Chi Kung) is a powerful type of health exercise, which has been practised for centuries by millions of Chinese people. It is based on repetitions of very precise sets of movements, specifically designed to benefit health on many different levels.
Qi Gong at Tring Martial Arts is easy to learn and enjoyable to do. Even a few minutes of practise can have an invigorating and rejuvenating effect. Get started today!
So How Does It Work?
Regular practice brings about a deep strengthening effect for the whole body and its various systems, including:

Nervous
Digestive
Respiratory
Skeleton-muscular
Hormonal
Ngynaecological
And more!
Its ability to help in healing a large variety of chronic and acute injuries and illnesses has been the subject of various research programmes led by the Chinese medical authorities.
Reduce Stress and Increase Energy with Qi Gong
The aim of Qi Gong is to promote the movement of Qi (energy) in the body; this is done by opening certain gates and stretching and twisting energy channels. A key point in Qi Gong practice is relaxation and deep breathing, both of which are prerequisites to allow Qi to flow.
Some Qi Gong movements are very gentle, others more vigorous. Some movements are very large and expansive, others are more subtle, almost imperceptible. All are different and have a very specific effect on body and mind. The deeper one practises, the more one can understand the purpose of each movement, allowing the Qi Gong practice to become ever more enjoyable.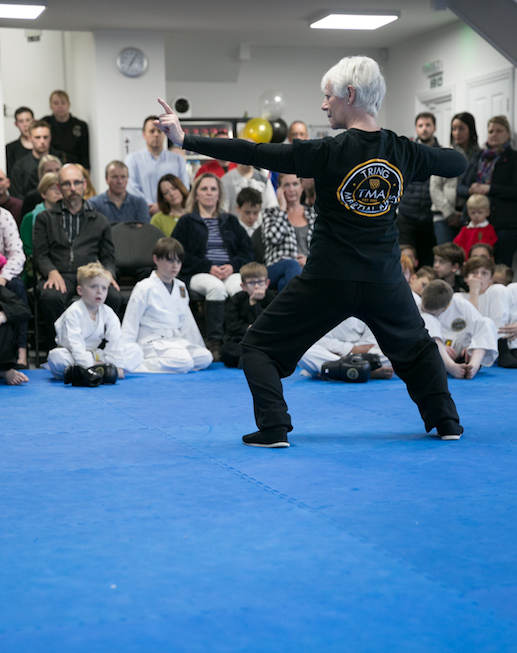 Check out just one of our reviews:
"Pam Nicklin is a wonderful teacher, she is patient and kind with everyone. I have been attending her class for just over 12 months and have discovered enormous benefits to my health and wellbeing. I suffer from quite severe asthma and I really feel that practising Qigong with Pam and at home has really made me feel much better. Qigong teaches poise, confidence and real self-belief to everyone. I look forward to attending future classes."
- Mrs. M Garrett.
Feedback from past and current students shows that, with a little bit of regular practice, Qi Gong can have a powerful effect on mind, body and spirit. Reported benefits have included increased general health and well being, reduced levels of stress, and a brighter and more balanced outlook on life's possibilities. Qi Gong can be practised either as a discipline in its own right, or as a perfect complement to your Tai Chi training.
Our Dedicated Instructor
Tring Martial Arts Academy is proud to introduce Pam Nicklin who shall be teaching Baduajin (8 Treasures) Qigong from September 2016. Baduanjin This is a set of 8 simple exercises which has been practised unchanged throughout China for nearly 1000 years. Originally, it was used by the Chinese army to give strength and health in harsh adverse conditions.
Nowadays, the set is performed to invigorate and strengthen the whole body including the internal organs.
One set takes about 10 minutes to do, and can be done daily for maximum benefits.
Get Started Today With Our Qi Gong Classes In Tring!
Build your body and your mind with our Qi Gong Classes in Tring Today! Just fill out the short form on your screen to get started or to learn more about Tring Martial Arts!