Elite Physiotherapy
Physiotherapy is an evidence-based practice using the most up-to-date research, knowledge, and skills to identify an individual's functioning needs in order to improve a broad range of physical problems associated with different systems of the body.
What this means for you is that if you're in pain, we can help!
Just fill out the short form on your screen to get started or to learn more about everything we have to offer in Tring.
At UltraFit Tring, our experienced Physiotherapists will work closely with you to resolve your pain and teach you how to avoid further injury.
We have the expertise to help you with:
Surgery Recovery
General Poor Movement
Surgery Preparation
Co-Morbidity
We Can Treat A Variety of Injuries

We strive to help every individual who walks through our doors to ultimately be pain-free. Living with daily pain is not something you have to accept - let us help!
Injuries and common conditions we treat are:
Sports Injuries

- Any sporting injury to muscles, tendons, ligaments or joints

Back and Neck Pain

- Headaches, sciatica, back pain, whiplash, spinal stiffness, disc prolapse, wear and tear

Gait Analysis and Running Injuries

- Gait analysis, Footscan platforms, 3D-printed orthotics, biomechanics assessments, running gait analysis

Joint or Muscular Pain

- associated with hypermobility, Ehlers-Danlos Syndrome (EDS), hypermobility spectrum disorders

Overuse Injuries

- Tendonitis, repetitive strain injuries, carpal tunnel, Achillies tendinitis
Pre and Post Operative Rehabilitation - increase strength before surgery, help restore normal function after surgery
MSK Injuries - Shoulder impingement, Shoulder instability, Frozen Shoulder, Rotator cuff injuries, Tennis or golfers Elbow, wrist sprains, Hip bursitis, Piriformis syndrome, Gluteal tendinopathy, knee ligament and meniscus injuries, anterior knee pain, ITB syndrome, Ankle sprains, Plantar Fasciitis, Arthritis, etc.

And more!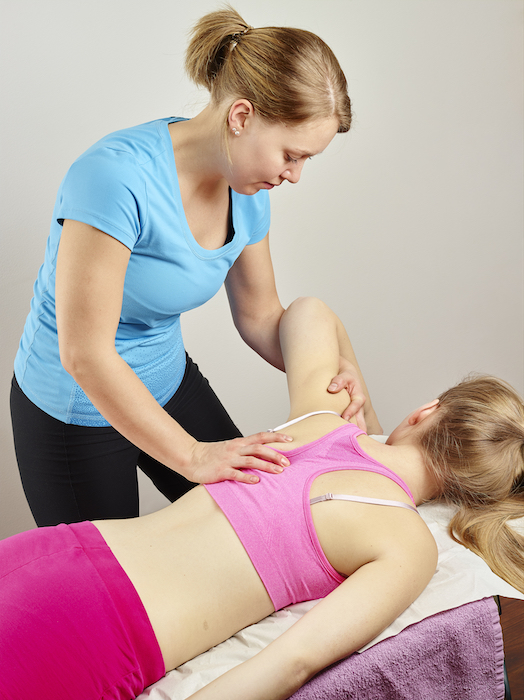 Sport Massage

Sports Massage was developed to help elite athletes prepare their bodies for optimal performance, recover after an event, or function appropriately during training.
However, you don't have to be an elite athlete to gain the benefits of a sports massage!
Why Are Sports Massages Right For You?
The same soft tissue injuries are a part of life and affect everyone, whether the soft tissue condition is due to overuse, abuse or disuse, our Sports Massage techniques are designed to address the rehabilitation process using a variety of massage techniques.

This form of massage has a "holistic" approach; it will take into consideration your lifestyle as well as your goals. If and when necessary, we will recommend other modalities to help support your goals.
What Makes Our Sports Massage Different?
We have the benefit of all our Sports Massage therapists being qualified Physiotherapists who have a unique insight into optimal movement, injury rehabilitation, injury prevention, and exercise-based therapy. Therefore, if further intervention is needed or you have any other questions, we are ready to help.
Sports massage is ideal for anyone wishing to improve the health of their soft tissue.
Take The First Step Towards A Happier, Pain-Free You Today!
If you're looking for a permanent solution to your pain, join us in Tring for our elite Physiotherapy and Sports Massage. At UltraFit Tring, we have the tools necessary to make pain a distant memory.
Just fill out the short form on your screen to learn more or to get started today!