Since we opened in 2005 we have recognised that our students need visual reinforcement of their progression, which is why you will notice students with various Tags on the ends of their belts. Success Tags (Black) are earned every 5 Weeks subject to successfully testing on the content taught in the previous 4 weeks. An Achievement Tip (Red) is earned every 15 weeks following testing and indicates that a student is now ready to be promoted and the student / parent must complete an Intent to Promote Card.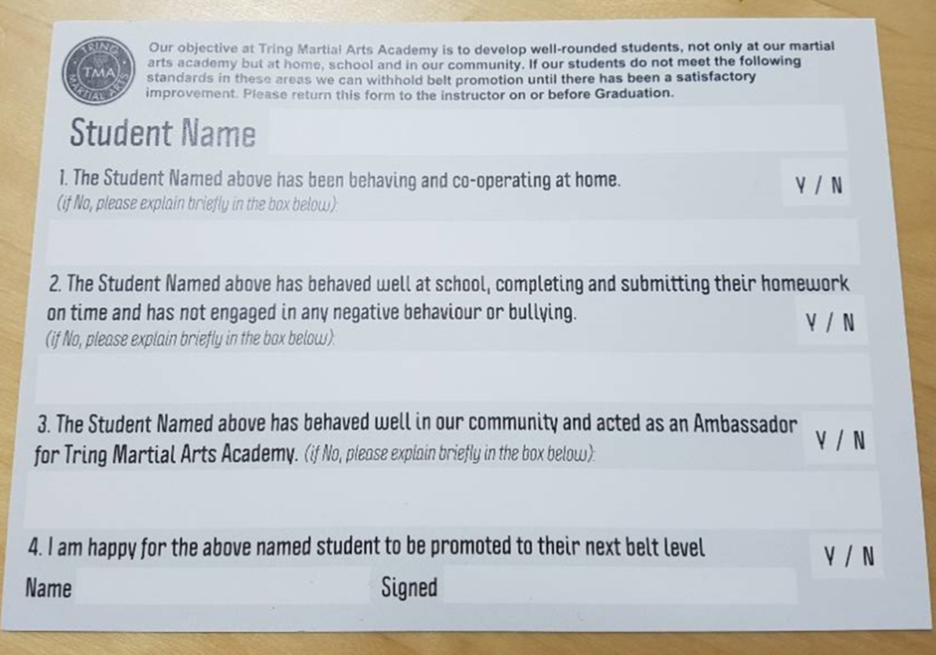 Intent To Promote Card – Rewarding Good Behaviour at:
•Home
•School
•Community

Parents have final say about grade progression, should the student not be performing to the required standard in these areas we may delay graduation until improvement occurs. Should parents be experiencing poor attitude or behaviour at home, in school or in the community please DO NOT EXCLUDE them from our classes as a punishment. Our Instruction team are experts in attitude adjustment, and through attendance we can make positive changes in their attitude and help them to understand what is expected of them.